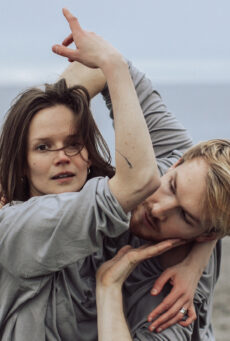 ALICE KLOCK AND FLORIAN LOCHNER (FLOCK)
GUEST CHOREOGRAPHERS 2022/23
Alice Klock and Florian Lochner met while serving as dancers and Choreographic Fellows at Hubbard Street Dance Chicago. In 2017 they founded the dance company FLOCK through which they perform their own work internationally and co-create new choreography for film and stage.
As a team they have choreographed for multiple dance companies, universities, and cultural institutions including Hubbard Street Dance Chicago, Ballet Arkansas, Seattle Dance Collective, Whim W'Him, the Ballet Idaho Trainee Program, Kultur O.H.G, the Goethe Institut, Adaptations Dance Theater on Maui, the Alonzo King LINES Ballet BFA, and the 92nd Street Y.
In all of their work they strive to bring artists and audiences together in environments that are open, dynamic, and based on joy.
© photo: Lindsay Thomas
ANTHONY MISSEN
GUEST CHOREOGRAPHER 2022/23
Anthony Missen is Co-Artistic Director of Company Chameleon. He is a Clore Fellow, a Without Walls Board Director, a member of the Greater Manchester Culture Steering Group, an Executive Member of Dance Consortia North West, a member of The UK Dance network, and part of the Manchester Cultural Leaders group. He is a founding Director of New Movement Collective and co-founder of Company Chameleon.
He received formal training at the Northern School of Contemporary Dance and went onto dance with companies including Scottish Dance Theatre, Mad Dogs Dance Theatre, Cie. Willi Dorner (Vienna), and choreographers including Rui Horta, Didi Veldman and Liv Lorent.
Movement Direction credits include Dundee Rep Theatres production of Playhouse Creatures (2007) & Romeo and Juliet (2008), Oresteia at HOME Manchester (2015), Terra, the first National Theatre connections play to incorporate movement (2019), and Alice for HOME Manchester 2021.
He was the series Director for the BBC one drama series "Everything I Know About Love" by Dolly Alderton (2021/22)
Anthony has taught in most major British contemporary dance institutions, to several professional dance companies and in many countries including South Africa, Ethiopia, Israel, Trinidad, Morocco, Sweden, Spain, France, Italy, Germany and Austria. He has led many Choreographic and skills-based Residencies.
He has worked as a facilitator for The National Theatre for their Theatre Nation Partnerships programme.
© photo: Joel Chester Fildes