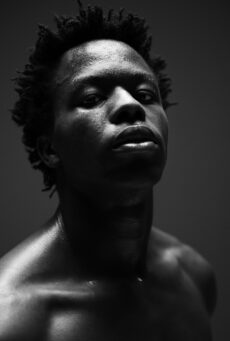 MTHUTHUZELI NOVEMBER
GUEST CHOREOGRAPHER 2022/23
Born in Cape Town, South Africa, Mthuthu started dancing at the age of 15 with the outreach programme, Dance For All. In 2011 he attended the Cape Academy of Performing Arts (CAPA). Mthuthu is a two-time gold medal winner in the Contemporary category in the South Africa International Ballet Competition and has danced with Cape Dance Company.
Mthuthu created his debut choreographic work in 2014 on the Cape Dance Company Junior Company. In 2015 he travelled to the UK to dance with Central School of Ballet's third year touring company, Ballet Central and danced in a South African production of 'West Side Story' before joining Ballet Black September in 2015.
Mthuthuzeli has made four works for Ballet Black since 2016 including 'INTERRUPTED', 'WASHA', most recently his multi award-winning and Laurence Olivier Award production 'INGOMA' and 'The Waiting Game' which is set to premiere in 2021. He was awarded South Africa's Emerging Artist prize at Klein Karoo Nasionale Kunstefees for his solo work. He has made two works for the Cape Dance Company 'Visceral' and 'The Rite of Passage'.
Mthuthu created short works for English National Ballet's Emerging Dancer competition in 2018 and 2020. He also created and danced for British Grime artist, Stormzy for Glastonbury 2019. Mthuthuzeli was then commissioned by Cape Town Opera to make 'Pergolesi Stabat Mater' for on demand online release.
He was also commissioned by The Grange Festival to create a work on the production of 'Precipice' in 2020. Mthuthu has recently made a dance film for Northern Ballet's digital programme and also been commissioned by Luzerner Theatre in Switzerland to premiere a new work in 2021. Other projects include The Chemical Brothers and Sanlam Bank, South Africa and Adam Hender.
© photo: Derrick Kakembo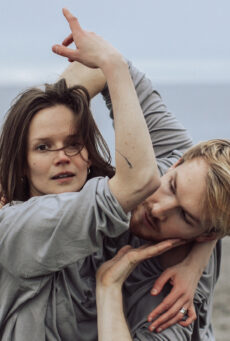 ALICE KLOCK AND FLORIAN LOCHNER (FLOCK)
GUEST CHOREOGRAPHERS 2022/23
Alice Klock and Florian Lochner met while serving as dancers and Choreographic Fellows at Hubbard Street Dance Chicago. In 2017 they founded the dance company FLOCK through which they perform their own work internationally and co-create new choreography for film and stage.
As a team they have choreographed for multiple dance companies, universities, and cultural institutions including Hubbard Street Dance Chicago, Ballet Arkansas, Seattle Dance Collective, Whim W'Him, the Ballet Idaho Trainee Program, Kultur O.H.G, the Goethe Institut, Adaptations Dance Theater on Maui, the Alonzo King LINES Ballet BFA, and the 92nd Street Y.
In all of their work they strive to bring artists and audiences together in environments that are open, dynamic, and based on joy.
© photo: Lindsay Thomas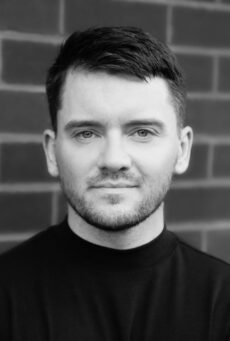 JOSS ARNOTT
Founding Joss Arnott Dance in 2010, Joss is an internationally award-winning choreographer who has been continuously supported and commissioned by leading UK dance agencies, venues and funding organisations.
A recent shortlisted artist for One Dance UK's People's Choice Award, Joss is in demand as a choreographer and has been commissioned to create work on professional dance companies including Rambert and for leading dance conservatoires. His artistic vision is fuelled by creating a portfolio of work for a diverse range of audiences which are at the heart of everything he produces, including indoor, outdoor and family orientated productions.
Joss strives for innovation of the highest quality and curating world class collaborations for JAD which became evident in 2015 with the company's 5th anniversary tour that featured live music from the world's premier solo percussionist, Dame Evelyn Glennie.
With a commitment and passion for talent development, Joss has been a Focus Group Artist for Sadler's Wells National Youth Dance Company, BBC Young Dancer consultant and has worked with and produced multiple works for national Centre for Advanced Training Schemes. He is also a featured artist for AQA's 2020/21 Performing Arts Qualification.
He received his first international dance award in 2016 for his solo work 'V' for Outstanding Choreographic Musical Interpretation and Dance Technicality from WARSAWZawirowania Dance International.
2018 marked the year of the newly formed partnership between Joss Arnott Dance and the University of Salford with the launch of a new MA Dance Performance and Professional Practices programme that established EMERGENCE, now a leading postgraduate performance company, that tours newly commissioned performance work by internationally acclaimed choreographers annually.
In 2019 he became an Associate Artist at Déda. Later this year, Joss Arnott Dance were selected to be part of Surf the Wave, UK Dance Showcase and joined the Without Walls Programme with 'PULSE!', a dance and live music duet created for the streets set around a 3.5m high percussion wheel designed by Linbury Prize winning artist Eleanor Bull and engineered by Rolls-Royce.
2020 marks Joss Arnott Dance's 10th anniversary and the company celebrated this key milestone developing the 'DANCE:CONNECTS – PULSE! 2.0′ initiative. With support from Arts Council England's Emergency Response Funding and commission funds from Pavilion Dance South West, JAD were able to financially support more than 25 independent dance artists and work with hundreds of people of all ages from across the world including Asia, Africa, Europe, Australia and the USA through online live workshops, tutorials and accessible pre-recorded Learn at Home videos.
The legacy in this work is through the film documentation and the existing and new global relationships the company developed throughout the duration of the activity.
© photo: Josh Hawkins