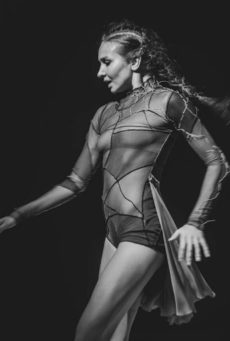 GOSIA MIELECH
GUEST CHOREOGRAPHER 2021/22
Gosia Mielech is a dancer, choreographer, Gaga teacher and a dance educator.
She completed the Gaga Teacher's Training Course in 2018 under the artistic direction of Bosmat Nossan, Saar Harari and mentorship of Ohad Naharin.
She graduated from Olga Slawska-Lipczynska's Ballet School in Poznan, Poland (1998-2007).
As a soloist of the Polish Dance Theatre in Poznań (2007–2012), she had a chance to dance in a range of pieces by Polish and international choreographers, including Ohad Naharin, Yossi Berg, Jacek Przybyłowicz, Ewa Wycichowska, Gunhild Bjørnsgaard, Susanne Jaresand, Thierry Vergerand many others.
She founded DanceLab – an independent dance company in 2012. She choreographed and produced dance performances including: 'Sababa', 'NILREB', 'Anonymous' and 'I'mperfect'. Gosia performs DanceLab's repertoire worldwide, including recent performances in London, Lisbon, Stockholm, Moss, Jerusalem, Tel Aviv, Berlin, Nurnberg, Poznan, Krakow, Wroclaw, Warsaw and others.
© photo: Justi Szadkowska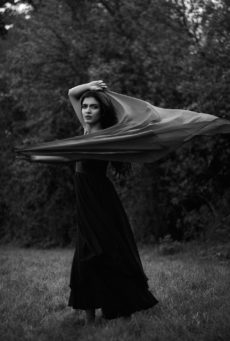 VIDYA PATEL
GUEST CHOREOGRAPHER 2021/22
Vidya Patel is a Birmingham based Dance Artist with training background in Kathak learning from Guru Sujata Banerjee.
After representing the South Asian Category in the Grand Finals of the inaugural BBC Young Dancer 2015 at Sadler's Wells, she has continued her journey as a freelance artist performing in a range of works touring nationally and internationally with several contemporary choreographers and artists including Richard Alston Dance Company, Gary Clarke, Thick & Tight and Akademi. She has been nominated thrice for the Critics Circle National Dance Awards for her performances in Richard Alston's 'An Italian in Madrid' as well as Akademi's 'The Troth' choreographed by Gary Clarke.
As an emerging choreographer she has collaborated with artists including composer/multi- talented musician Shammi Pithia and contemporary dancer Connor Scott creating 'About the Elephant' commissioned by Sampad Arts and mentored by Kerry Nicholls which premiered at Serendipity Festival in Goa. Recently she has been working with artist Hetain Patel who is creating a new solo on her supported by DanceHub.
She is currently an Associate Artist at Déda, Derby, a member of Aakash Odedra 2 educational programme and one of four Sadler's Wells Young Associate Choreographers. Earlier this year, Vidya worked with Joss Arnott Dance as a dancer on their 'PULSE! 2.0' digital flash mob campaign.
Through her interest and curiosity Vidya continues to collaborate with artists from various artistic practises as well as continuing to shape her knowledge and understanding whilst training as a dancer in the Kathak form.
© photo: Indy Sagoo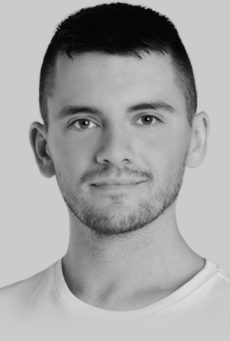 JOSS ARNOTT
Founding Joss Arnott Dance in 2010, Joss is an internationally award-winning choreographer who has been continuously supported and commissioned by leading UK dance agencies, venues and funding organisations.
A recent shortlisted artist for One Dance UK's People's Choice Award, Joss is in demand as a choreographer and has been commissioned to create work on professional dance companies including Rambert and for leading dance conservatoires. His artistic vision is fuelled by creating a portfolio of work for a diverse range of audiences which are at the heart of everything he produces, including indoor, outdoor and family orientated productions.
Joss strives for innovation of the highest quality and curating world class collaborations for JAD which became evident in 2015 with the company's 5th anniversary tour that featured live music from the world's premier solo percussionist, Dame Evelyn Glennie.
With a commitment and passion for talent development, Joss has been a Focus Group Artist for Sadler's Wells National Youth Dance Company, BBC Young Dancer consultant and has worked with and produced multiple works for national Centre for Advanced Training Schemes. He is also a featured artist for AQA's 2020/21 Performing Arts Qualification.
He received his first international dance award in 2016 for his solo work 'V' for Outstanding Choreographic Musical Interpretation and Dance Technicality from WARSAWZawirowania Dance International.
2018 marked the year of the newly formed partnership between Joss Arnott Dance and the University of Salford with the launch of a new MA Dance Performance and Professional Practices programme that established EMERGENCE, now a leading postgraduate performance company, that tours newly commissioned performance work by internationally acclaimed choreographers annually.
In 2019 he became an Associate Artist at Déda. Later this year, Joss Arnott Dance were selected to be part of Surf the Wave, UK Dance Showcase and joined the Without Walls Programme with 'PULSE!', a dance and live music duet created for the streets set around a 3.5m high percussion wheel designed by Linbury Prize winning artist Eleanor Bull and engineered by Rolls-Royce.
2020 marks Joss Arnott Dance's 10th anniversary and the company celebrated this key milestone developing the 'DANCE:CONNECTS – PULSE! 2.0′ initiative. With support from Arts Council England's Emergency Response Funding and commission funds from Pavilion Dance South West, JAD were able to financially support more than 25 independent dance artists and work with hundreds of people of all ages from across the world including Asia, Africa, Europe, Australia and the USA through online live workshops, tutorials and accessible pre-recorded Learn at Home videos.
The legacy in this work is through the film documentation and the existing and new global relationships the company developed throughout the duration of the activity. This includes the British Council with both films being selected to be featured as part of the 2020 UK-China Contemporary Culture Festival.
© photo: Brian Slater