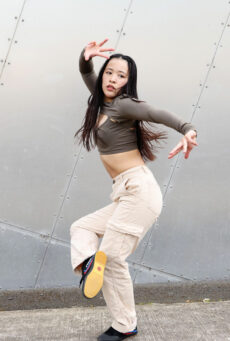 Yue Ying Ho is a British born; freelance contemporary dance artist based in the North. Born and raised in Swansea, Wales, Yue Ying started her training as part of Pamela Miller Ballet School, County Youth Dance Company, National Youth Dance Wales (2016), and National Dance Company Wales: Associates.
Yue Ying began her formal training at Trinity Laban Conservatoire of Music and Dance, graduating in 2020 with a First-Class BA Honours degree in Contemporary Dance. In 2021, Yue Ying furthered her training; completing her MA Dance: Performance and Professional Practices under the artistic direction of Joss Arnott as part of Emergence and touring new works by Joss Arnott, Becky Namgauds and Kevin Edward Turner (Company Chameleon).
Since then, Yue Ying has been professionally working throughout the UK. Touring works with Kapow Dance Circus Theatre, HAWK Dance Theatre, Joss Arnott Dance and Company Chameleon. Actively involved in teaching, Yue Ying has been invited as a guest artist to teach and create works on aspiring young dancers- Dance City CAT Scheme, the University of Salford BA students and Company Chameleon Saturday Sessions.
Yue Ying's values stem from racially driven inclusivity and acceptance of human beings from all walks of life. Yue Ying is currently a part of National Youth Dance Wales (NYDW) Diversity and Inclusion Panel- participating in identifying barriers for young, ethnically diverse people in Wales and contributing to how NYDW can overcome them.
Yue Ying is part of the original cast for 'TIN MAN', the company's new family production. She is currently performing as the Lion, the first alternate Tin Man role and also in 'RUSH'.
Photo credit: Josh Hawkins
Subscribe to our mailing list
Keep up to date with Joss Arnott Dance
Sign up now