Sean Moss
Dancer - PULSE!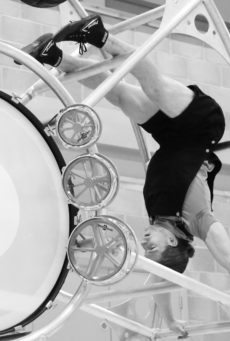 Sean completed his formal training at Northern School of Contemporary Dancel, graduating in 2018. During his time at the school he performed works by Catarina Carvalho, Gavin Coward and Fernanda Prata and was an apprentice for the Hull 2017 edition of Luca Silvestrini's '(In)Visible Dancing'.
Prior to this, Sean studied at Swindon Dance's Youth Dance Academy before becoming a member of the 2014-2015 National Youth Dance Company, creating and performing 'Frame[d]' by guest artistic director Sidi Larbi Cherkaoui, premiering the show on Sadler's Wells mainstage before embarking on a national tour. Sean has since returned to Sadler's Wells to perform works by Pascal Merighi and Michael Keegan-Dolan.
In 2018, whilst still formally in training, he joined 2Faced Dance Company as a full-time dance artist, touring extensively throughout the UK and abroad to Portugal, Italy and Hong Kong, performing works by Tamsin Fitzgerald and Lenka Vagnerova.
Sean Continues to push himself in all areas of his artistic practice, seeking out new challenges to further his skills and diversify his experience within the industry.
Sean joined Joss Arnott Dance in 2019 for their new, dance and live music outdoor work 'PULSE!'.
Subscribe to our mailing list
Keep up to date with Joss Arnott Dance
Sign up now