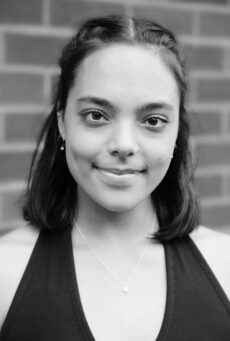 Karishma grew up in a small town in Northamptonshire where at aged 3 she started ballet classes at her local dance school, Kilburn School of Dance. Whilst here, she completed ISTD and RAD grades in ballet, modern, tap and Greek up to Advanced level. Karishma competed in and won several dance competitions including All England Dance, ISTD Ballet Awards and Janet Cram Awards. At aged 14, Karishma successfully auditioned for The Royal Ballet School Senior Associates where she progressed her dance training for 2 years.
Karishma started training at Rambert School of Ballet and Contemporary Dance at the age of 16 where in her first year she had the opportunity of working with Two Thirds Sky and Richard Alston Dance Company to perform in a curtain raiser performance for their show.
In her second year, Karishma performed in Matthew Bourne's New Adventures production of 'Romeo and Juliet' as a member of the Young Cast. She rehearsed and performed with the company over a period of several months and worked with choreographers Matthew Bourne and Arielle Smith. Alongside this in her second year, Karishma performed a piece of restaged repertory by Christopher Bruce CBE where she also briefly worked with him.
In her third year, she had the pleasure to work with Darren Ellis and Thick and Tight Dance to create two new pieces of work scheduled to have been performed in the summer of 2020. Alongside this, Karishma choreographed two pieces for Rambert School student platform as well as teaching several classes at her local dance school before graduating in 2020 with a BA (Hons) degree.
Since then, Karishma has co-choreographed and performed in a music video for musician Soumik Datta. Outside of dance, Karishma enjoys reading, yoga, playing guitar and long walks.
Photo credit: Josh Hawkins
Subscribe to our mailing list
Keep up to date with Joss Arnott Dance
Sign up now