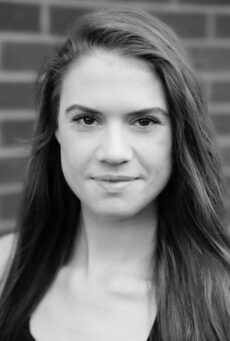 Since graduating from Rambert School, Joanna has been a part of a manner of creative projects, from improvised photo shoots and films, to company theatre performances. Being a part of Chrysalis London for 3 years (2016-2019) gave her a fulfilling and enriched experience in the workings of a dance company and all the promotion and backstage work that goes with it, such as costume design, choreography and directing.
Her most memorable experience professionally would be working with Kenrick H2o Sandy whose choreographic creativity and passion of expression through both individual physicality and group co-ordination, gave her the confidence in dancing with the truest of intentions.
Through having time away from dance last year she has become passionate about raising awareness for both human and animal oppression and injustices that exist in our current systems. This combined with discovering how Dance Movement Psychotherapy has the opportunity to heal and strengthen individuals, she hopes to use this year especially as an exploration of how to connect with audiences most compassionately, to share and open conversations through dance of how we can question our current systems, and how we can all actively change ourselves and environments for the better.
Photo credit: Josh Hawkins
Subscribe to our mailing list
Keep up to date with Joss Arnott Dance
Sign up now