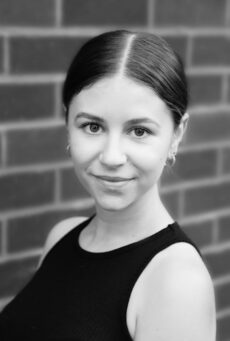 Grace was born and raised in Worcester where she started her dance training at Academy Theatre Arts. Here she trained in Ballet, Tap and Modern completing her RAD and ISTD grades to an advanced level, as well as teaching all ages. Training at Kidderminster College with Ignite Dance, Grace also had the opportunity to take her training further into musical theatre as well as contemporary styles. She then progressed her training further at Trinity Laban Conservatoire of Music and Dance.
Grace was given the opportunity to go on a UK tour with Chantry Dance Company performing in 'Vincent – A Stranger to Himself'. She then went onto train with them as part of Chantry School of Contemporary and Balletic Arts.
While studying at Trinity Laban, Grace was able to work with many Choreographers and company's such as, Lizzie Kew Ross, Tony Thatcher, and Michael Clark Company in a remaking of a section from the show 'OH MY GODDESS'. In 2019 Grace received a scholarship for a summer intensive at Martha Graham School of Contemporary Dance in New York.
As well as performing, Grace has a passion for teaching and shares this at her local dance school.
Photo credit: Josh Hawkins
Subscribe to our mailing list
Keep up to date with Joss Arnott Dance
Sign up now