Eleanor Stephenson
Company Dancer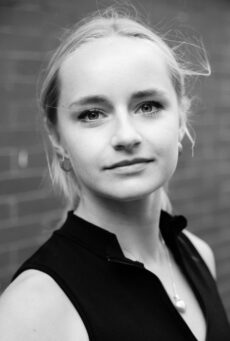 Born and raised in Bishop's Stortford, Hertfordshire, Eleanor trained with local dance schools Jacqui Ison Theatre Arts and Graham School of Dance, before enriching her technical ballet and contemporary foundations at Rambert School, where she graduated with a First-Class BA (Hons) in 2018. Since, she has qualified as a personal trainer, performed a self-choreographed solo at Netherlands Choreography Competition, featured in Bea Kadri's 'B4WBU' music video, trained additionally in aerial hoops and silks and has featured as a performer in AcroYogaDance's online syllabus footage. 
During her thus-far dance career, Eleanor has been fortunate enough to have worked with choreographers Ashley Paige, Dane Hurst, Benoit Swan Pouffer, Jason Mabana, Kennedy Muntanga and Arielle Smith, as well as performing works by Robert Cohan, Dan Wagoner and Richard Alston to name a few. Highlights include understudying Rambert's 'A Linha Curva' by Itzik Galili and performing at the Queen's Coronation Festival, Buckingham Palace. 
Fascinated by detail and the possibilities of amalgamating athletic training with dance, Eleanor is excited to explore the relationship between her fitness training and its application to Emergence's choreographic works this year.
Photo credit: Josh Hawkins
Subscribe to our mailing list
Keep up to date with Joss Arnott Dance
Sign up now