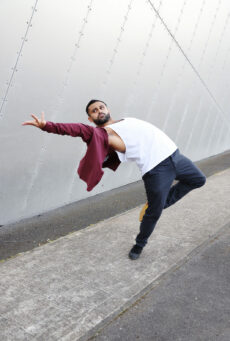 Born in Chorlton, 28 from Manchester, Dominic found his interest in dance whilst attending Chorlton High School, he started training in Contemporary dance at the age of sixteen whilst studying at Pendleton College from 2010-12. After leaving college, Dominic completed his degree at Northern School of Contemporary Dance in Leeds.
Upon graduating Dominic gained a place on the Jasmin Vardimon Professional Development Course where he had the opportunity to tour as a company called JV2. Dominic has worked professionally with Gary Clarke, Rhiannon Faith, Thick & Tight, Vidya Patel, Hawk Dance Theatre, Carlos Pons Guerra, Cahoots NI, Joe Garbett, Urban Conceptz, Fallen Angels Dance Theatre, Joss Arnott, ThickSkin Theatre and more. Dominic has performed nationally and internationally, to locations such as Belgium, China, India and USA.
Dominic is currently touring with JAD in 'TIN MAN' performing the title role and also 'RUSH'.
Photo credit: Josh Hawkins
Subscribe to our mailing list
Keep up to date with Joss Arnott Dance
Sign up now