Charley Mitchell
Company Dancer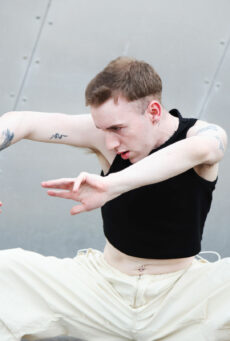 Born in West Yorkshire, Charley Mitchell is a UK based dance artist/performer. Charley began his professional dance training at Derbyshire's dance circus house: Déda, in partnership with The University of Derby, where he graduated with a First-Class BA Honours degree in Dance.
Since then, Charley was gifted a place on the MA Dance: Performance and Professional Practices (Emergence) programme at the University of Salford partnered with Joss Arnott Dance, where he toured highly physical works by choreographers Gosia Mielech, Kevin Finnan (Motionhouse), Vidya Patel and Joss Arnott.
Since graduating from Emergence, Charley now works with Joss Arnott Dance and Coalesce Dance Theatre performing works nationally.
Charley is currently touring with JAD in 'TIN MAN' performing as the Witch and also 'RUSH'.
Photo credit: Josh Hawkins
Subscribe to our mailing list
Keep up to date with Joss Arnott Dance
Sign up now