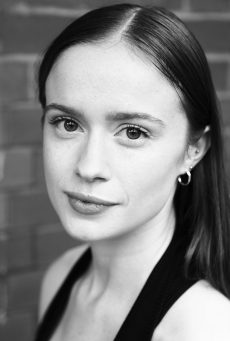 Born in Bristol, Freya started her dance journey at the age of 3 at Bristol Ballet Centre. Growing up, her interest in dance grew as she was more and more immersed in the creative world, attending Bristol Dance Associates and a project with the 'Big Act'.
In 2019, Freya received a place at the University of Derby where she studied for 3 years. During this time, she discovered her passion for flying low technique and improvisation. As part of this degree, Freya worked with different choreographers: Jane Mason on a dance theatre piece 'Out of the Quiet', Alice Marshall, MSDC Dance Company and Tom Dale who choreographed a work for the final show 'You & Me'. Freya was awarded with a First-Class Degree, Outstanding Technicians Award, and Dean's Award for her work in second year. Her Accompanying Reflective Paper 'Fast Fashion' to her Performed Piece of Live work 'The Nature of Fashion' has been published in the School of Arts Research 2022.
Alongside University, Freya had the opportunity to work with MSDC Dance Company as an intern for a dance film project 'Dissonance'. She has also been a scholarship student for Sterran Touring Company 2021/2022 where she has had the opportunity to dance as part of the Commonwealth Games 2022 Live Sites. And has attended the Aakash Odedra AO2 programme. Freya has also run contemporary dance workshops for various ages at Avive Dance Company.
Outside of dance, Freya enjoys socialising with friends, playing netball in local leagues, yoga, theatre and she loves to travel, exploring new places and cultures.
Photo credit: Josh Hawkins
Subscribe to our mailing list
Keep up to date with Joss Arnott Dance
Sign up now