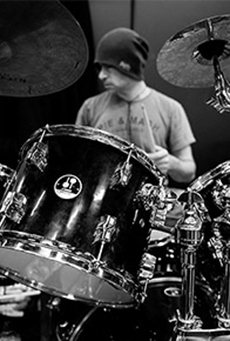 Trained at Trinity College of Music. He has composed for dance, theatre, TV, animation and the concert hall and has conducted music for opera, concerts, TV, films, and CDs.
As a performer he has worked with Deborah Warner (LIFT), Tom Morris (NT, BAC), Struan Leslie (NT, WNO), Melly Still (Lyric Hammersmith), Jonathan Stone (Purcell Room and touring), Julian Crouch, Lizzi Kew-Ross (Laban), Simon Fisher Turner and as a conductor/orchestrator/instrumentalist with The Clod Ensemble, The Cholmondeleys and Featherstonehaughs, Welsh National Opera, Ballet Rambert, Hofesh Shechter and composers Murray Gold (BBC, C4), John Browne (ROH), Paul Clark (NT) and bands The Jazz Cigarettes (live karaoke), The Blue Dogs and Heist (supporting The Fall).
Most recently he has been conducting a choir at Tate Modern Turbine Hall in Clod Ensemble's 'Silver Swan', also conducting a string orchestra and playing fuzz bass in Clod's 'An Anatomie in Four Quarters' at Sadler's Wells and Wales Millennium Centre; touring internationally with Hofesh Shechter Company as MD, Guitarist and Drummer; performing in Without Warning company; composing for Lost Dog (Place Prize winners 2012), Theo Clinkard, The Circus Space and Struan Leslie.
In 2011 his piece '21Strings' was performed at the Bonnie Bird Theatre, conducted by Nick Pendlebury, with choreography by Lizzi Kew-Ross. He was associate Musical Director for the world premiere of 'Here All Night', words by Samuel Beckett, music by Paul Clark at the Brighton Festival 2013 and was musician in residence for the 2014 Festival Parade.
James has also composed music for Tanztheater Wuppertal Pina Bausch with choreographer Theo Clinkard. Joss Arnott Dance's most recent work 'PULSE!' was James's ninth commission for the company – highlights include 'Wide Awakening' for JAD's fifth anniversary tour with Dame Evelyn Glennie and 'When Worlds Collide' for Emergence, Joss Arnott Dance's postgraduate dance company in partnership with the University of Salford.
Subscribe to our mailing list
Keep up to date with Joss Arnott Dance
Sign up now