Dame Evelyn Glennie
Musician and Composer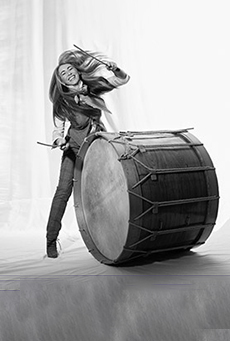 Evelyn Glennie is the first person in history to successfully create and sustain a full-time career as a solo percussionist, performing worldwide with the greatest conductors, orchestras, and artists. She fondly recalls having played the first percussion concerto in the history of The Proms at the Albert Hall in 1992, which paved the way for orchestras around the world to feature percussion concerti. She had the honour of a leading role in the Opening Ceremony of the London 2012 Olympic Games. "Playing at an event like that was proof that music really affects all of us, connecting us in ways that the spoken word cannot".
Evelyn's solo recordings, which now exceed 30 CDs, are as diverse as her career on-stage. 'Shadow Behind the Iron Sun' and 'Sound Spirits' continue to be bestselling albums that amply demonstrate her brilliant improvisational skills.
A leading commissioner of new works for solo percussion, Evelyn has more than 170 pieces to her name from many of the world's most eminent composers. She believes this has been crucial to her success as a solo percussionist. "It's important that I continue to commission and collaborate with a diverse range of composers whilst recognising the young talent coming through".
A triple GRAMMY award winner and BAFTA nominee Evelyn is in demand as a composer in her own right and records high quality music for film, television and music library companies. The film 'Touch the Sound' and her enlightening TED speech remain key testimonies to her approach to sound-creation.
With over 80 international awards to date, including the Polar Music Prize 2015, Evelyn continues to inspire and motivate people from all walks of life. Her masterclasses and consultations are designed to guide the next generation.
To this day, Evelyn continues to invest in realising her vision – to Teach the World to Listen – while looking to open a centre that embodies her mission: "to improve communication and social cohesion by encouraging everyone to discover new ways of listening. We want to inspire, to create, to engage and to empower".
Awarded an OBE in 1993 and Dame Commander of the British Empire in 2007, Evelyn lives in the beautiful countryside of Cambridgeshire in the East of England.
Evelyn joined Joss Arnott Dance to celebrate the company's 5th anniversary and her own 50th birthday to collaborate on the full company work 'Wide Awakening', that toured in Autumn 2015.

Subscribe to our mailing list
Keep up to date with Joss Arnott Dance
Sign up now