Yaron Abulafia
Lighting Designer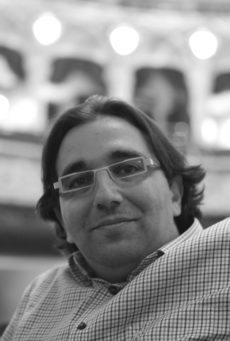 Dr. Yaron Abulafia (B.A., M.F.A., PhD)
Award-winning performance designer Yaron Abulafia has designed over 200 performances, installations, concerts and TV shows internationally.
He has designed for the English National Ballet, the Nederlands Dans Theater, Rambert Dance Company, Staatsballett Berlin, Ballet BC in Vancouver and the Hungarian State Theatre of Cluj-Napoca in Romania – to mention but a few.
In his performance designs – as well as in his academic writings – Abulafia explores the 'performativity' of light, examines the boundaries of its autonomy from the narrative and works to interweave dramaturgy of light along with the creation of other media in the performance.
Abulafia holds a Masters degree (M.F.A.) in Scenography, and B.A. in theatre studies from Tel Aviv University in Israel. He is in-demand visiting lecturer in universities and art academies around the world, and was honoured to take part as a jury member in the most distinguished international exhibition of performance design – World Stage Design 2013 – organized by OISTAT organization once in 4 years.
For designing 'Peer Gynt' (Romania, 2008), he has won the First Prize for lighting design (supported by PHILIPS), and has been nominated for the Knight of Illumination 2011 ('Awakening', Rambert, UK) and the lighting design prize for theatre ('In the Solitude of Cotton Fields', Israel, 2011).
Yaron has designed for JAD productions including 'A Movement in 3' and 'RUSH'.
Subscribe to our mailing list
Keep up to date with Joss Arnott Dance
Sign up now