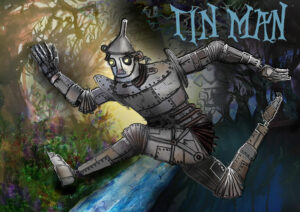 Joss Arnott Dance seek two professional dancers to join the company for the creation period and tour of their new family production TIN MAN.
Based in the North of England, the company create classical contemporary work and are looking to appoint a diverse range of people with a variety of dance skills for this production.
We are looking for versatile dancers who have a strong sense of musicality, creative improvisational skills, and the theatrical ability to bring characters to life.
DATES
Rehearsal Period – West/South Yorkshire
13th – 17th Dec 21
20th – 23rd Dec 21
3rd – 7th Jan 22
10th – 14th Jan 22
7th – 11th Feb 22
14th – 18th Feb 22
Tour Period
28th Feb – 5th March 22
25th & 26th March 22
5th – 10th April 22
21st – 24th April 22
6th & 7th May 22
Applicants are to be available for all dates. Travel, Accommodation and per diems, where necessary, will be provided during rehearsal and touring periods.
TO APPLY
Please send a CV and Cover Letter, along with relevant footage showing your strengths and versatility as a dancer and performer to audition@jossarnottdance.com
In your Cover Letter, please outline your skills as a dance artist and why you would like to work with us for this specific creation and tour.
All dancers must have the right to work in the UK, a valid DBS check and be available for the commitment outlined in the project schedule.
We are committed to paying dancers in line with ITC standards.
Joss Arnott Dance is an equal opportunity employer and encourage people from diverse backgrounds to apply for these positions.
Application Deadline: Wednesday 25th August 2021
Please note, the company will notify successful applicants no later than Friday 27th August 2021. We regretfully are unable to respond to unsuccessful applicants or provide feedback.
We will provide details of the audition format to shortlisted candidates.
Applicants are advised to familiarise themselves with the company and their work. Please visit the links below to learn more about the company:
https://www.instagram.com/jossarnottdance
Featured Artwork: Eleanor Bull
TIN MAN
A reimagined telling of classic characters, TIN MAN is a new family dance show by Joss Arnott Dance for family audiences 7+.
TIN MAN will resonate with children and adult audiences by bringing together relevant storytelling, bold choreography, stunning set, costume and lighting designs and a newly commissioned music score by award-winning composer Anna Appleby.
TIN MAN will tour from Spring 2022 with live performances from music ensemble Psappha at selected venues.
Supported using public funding by the National Lottery through Arts Council England, the Royal Philharmonic Society with funding from the RPS Drummond Fund and PRS Foundation's The Open Fund for Organisations.
Co-commissioned by DanceEast, Swindon Dance, Pavilion Dance South West and Kala Sangam. Supported by the University of Sheffield Enable US Project.
Subscribe to our mailing list
Keep up to date with Joss Arnott Dance
Sign up now