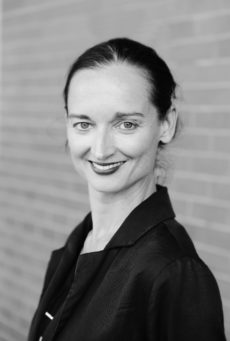 WUBKJE KUINDERSMA
GUEST CHOREOGRAPHER 2019/20
Wubkje Kuindersma is a Dutch female choreographer. She was educated at the Rotterdam Dance Academy and danced with a.o. Danish Dance Theatre, Gulbenkian Ballet, Random Dance, Djazzex, Nürnberg Ballet and in several freelance projects. Her acknowledgements include a scholarship from Dansersfonds and a nomination for The Philip Morris Award for outstanding performance in the ITS Festival in Amsterdam.
Her first choreography 'Aquasomnia' won an award for originality of movement vocabulary and outstanding movement quality in the choreographic competition U30 in Cologne, 2010.
In 2016 Wubkje received the BNG Bank Dance Award for choreographic talent. She has choreographed
for Dutch National Ballet and Dutch National Ballet Junior Company, Ballet Dortmund, BalletX, Danish Dance Theatre, Korzo Theatre and Netherlands Dance Theatre's program, Noverre, National Youth Ballet of John Neumeier and West Australian Ballet, a.o.
Her duet 'Two and Only' for Dutch National Ballet was internationally well received. Marijn Rademaker got nominated for the Prix de Benois for his role in this ballet and performed Two and Only together with Timothy van Poucke on the Benois Gala at the Bolshoi Theatre in Moscow.
The Centre for Ballet and the Arts at New York University and Dutch National Ballet nominated Wubkje to serve as an Artistic Partnership Initiative Fellow in Summer 2018. Dancemagazine included Wubkje in their Top 25 to watch list for 2019, an annual list of the dancers, choreographers and companies that are on the verge of sky-rocketing and dancemagazine believes represent the future of our field.
In May 2019 Wubkje was nominated for the Award of the "Nederlandse Dansdagen" in the Netherlands.
© photo: Josh Hawkins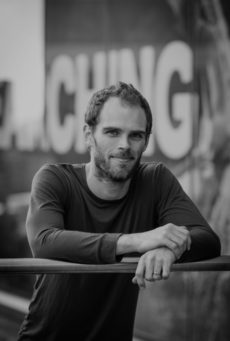 JAMES WILTON
GUEST CHOREOGRAPHER 2019/20
James Wilton is a multi-award-winning choreographer based in the UK who creates and tours athletically driven, martial arts influenced contemporary dance work both nationally and internationally.
After forming James Wilton Dance in 2010, his first work, 'The Shortest Day', won the Sadler's Wells Global Dance Contest and was performed at Sadler's Wells. 'The Shortest Day' also won awards at the MASDANZA and Hannover choreography competitions.
The company's first full length work, 'Last Man Standing' (2014), has been performed over 75 times, including performances in Austria, Germany, Poland, Serbia, Switzerland and Sweden and
won an award at the Berner Tanzpreise in 2014. Wilton's recent work 'LEVIATHAN' (2016), a piece for 6 dancers based on Herman Melville's novel Moby Dick, has been even more successful with international acclaim. 'LEVIATHAN' was recently nominated for Best Dance Production at the Manchester Theatre Awards.
Outside of theatre based touring works, Wilton has created numerous outdoor and mass scale productions, including creating a work for 50 professional dancers for a performance at the opening and semi-final ceremonies of the Rugby League World Cup 2013, the work was seen by 110,000 people live and a broadcast number of millions.
© photo: Steve Tanner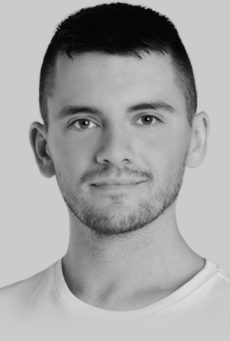 JOSS ARNOTT
Joss Arnott is the Artistic Director of Joss Arnott Dance and Emergence postgraduate dance company.
He is an internationally award-winning choreographer who trained at London Studio Centre and Laban. Upon graduation he joined Transitions Dance Company whilst completing his MA Dance Performance and has toured internationally as a choreographer and performer.
Founding Joss Arnott Dance shortly after his training, Joss has been continuously supported by leading dance agencies, venues and organisations. He is in demand as a choreographer and has
been commissioned to create work on leading professional dance companies including Rambert Dance Company, through a joint commission with The Lowry, and for dance conservatoires such as Northern School of Contemporary Dance (NSCD) for their 30th Anniversary Graduation Showcase and Trinity Laban. Joss has additionally taught at dance conservatoires such as Rambert School of Ballet and Contemporary Dance and The Place.
In 2016, his solo work 'V' was awarded with an International Award for Outstanding Choreographic Musical Interpretation and Dance Technicality from WARSAW Zawirowania Dance International.
With a continued passion and commitment to developing the next generation of young artists,
Joss has been a Focus Group Artist for Sadler's Wells National Youth Dance Company, BBC Young Dancer contemporary judge and has worked with and produced multiple works for national Centre for Advanced Training Schemes including Dance City, NSCD, DanceEast, Swindon Dance, Trinity Laban and The Lowry.
2018 marked the year of the newly formed partnership between Joss Arnott Dance and the University of Salford with the launch of the MA Dance Performance and Professional Practices programme and the establishment of Emergence.
Working with Producer Phil Hargreaves over the past ten years has resulted in the continuous success and achievements the company have had to date.
Over the last 12 months, Joss received funding from Without Walls and Arts Council England to create 'PULSE!', a dance and live music outdoor production set around a 3.5m percussion wheel designed by Eleanor Bull and engineered by Rolls Royce.
© photo: Brian Slater