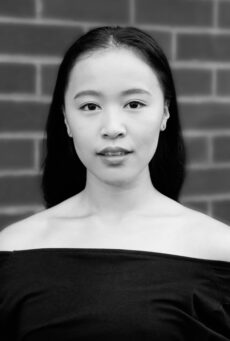 Swansea born Yue Ying Ho is a performer, creator, and dancer – delivering high quality and captivating performances. Habitually, Yue Ying's movement language stems from intricate, dynamical artistry. Whilst, still finding rhythmic notes and complexity. She has been described as quirky, powerful, fierce and a captivating dancer. Her movement draws upon influences of contemporary dance and popping. 
Before entering Emergence, Yue Ying Ho graduated from Trinity Laban Conservatoire of Music and Dance with a first-class BA (Hons) in Contemporary Dance. During this time, she performed works by Alison Curtis-Jones, Gary Lambert, Tony Thatcher and Lizzie Kew-Ross. She has had the privilege of completing two work placements with Phoenix Dance Theatre and Motionhouse. 
Yue Ying started her training as part of Pamela Miller Ballet School, County Youth Dance Company, National Youth Dance Wales 2016 and National Dance Company Wales: Associates. Throughout her dance journey, she has worked closely and performed works by Kerry Nicholls, Elesha Drennan, Anthony Matsena, Paul Davies, Joseph Toonga, and Emily Robinson.  
Photo credit: Josh Hawkins
Subscribe to our mailing list
Keep up to date with Joss Arnott Dance
Sign up now