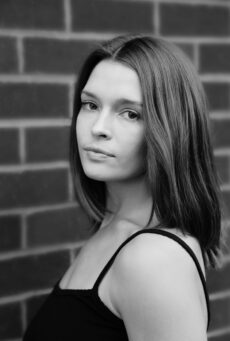 Tilly grew up in Leeds and first started dancing at the age of 4, where she trained in ballet, jazz and modern. At the age of 11, she joined Northern Ballet's Associate programme, and at the age of 14, Tilly successfully auditioned for Phoenix Dance Theatre's Youth Academy. During this time, she toured works arounds the country, and she particularly enjoyed participating in U.Dance with work created by Antonio Borriello. She also had the opportunity to perform with Phoenix Dance Theatre's main company as part of their 35th anniversary.
After her A-Levels, Tilly began training at Rambert School of Ballet and Contemporary Dance. During this time, she enjoyed working with multiple choreographers, including Christopher Bruce CBE, Arielle Smith and Thick and Tight. Tilly also had the pleasure of taking part in the Eastman Summer Intensive in Antwerp, where she worked with Sidi Larbi Cherkaoui's company dancers on the restaging of Stoic. Other performance highlights include dancing as part of London Fashion Week, performing at The Place as part of the Resolution Festival, and starring as the lead dancer in a music video for The Lathums.
As well as performing, Tilly enjoys creating her own work, and she has choreographed several group pieces and solos for Rambert School's student choreographic showcases. She also loves teaching, for example she took part in the Aspire Project, where she taught and choreographed on GCSE dance students. Outside of dance, Tilly enjoys running, reading, yoga and learning languages.
Photo credit: Josh Hawkins
Subscribe to our mailing list
Keep up to date with Joss Arnott Dance
Sign up now