Satya-Sara Khachik
Company Dancer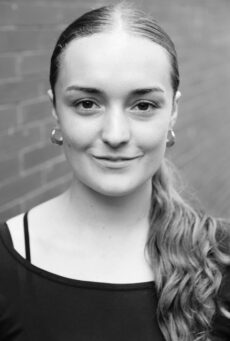 Satya-Sara is a Dance Artist born in Leicester yet has gathered her education from many sources. Growing up in an eclectic, spiritual and social environment, music and dancing were very much a part of her home life. Her mother was a stage dancer and her father was a musician. Self-expression, performance and exploration were encouraged from a young age. Her formal dance training began at 14 and she was accepted on to the Dance4 CAT scheme, where she attended for 3 years.
There she was introduced to contemporary dance and to choreographers such as Gary Clarke and Jose Aguedo. At 18 she took choreographic workshops with Dance Maker and Director Angus Balbaunie. Inspired, she went to Buenos Aires to train at 'Espacio LEM', (School for the Investigation of the Moving Arts), under the direction of Vivian Iasparra and Melina Seldes. She created experimental performances in collaboration with other artists and continued in this way on returning to the UK, where she joined a Jazz Collective and worked with Photographers and Film Makers.
During her undergraduate at De Montfort University, she was accepted on to the 'Dance Jerusalem' program in Israel and spent a year at the Jerusalem Academy of Music and Dance. Here Satya-Sara continued training in Classical Ballet, Modern, Contemporary and Improvisation, including Ohad Naharin's 'Gaga' and performing Repertoire of companies Batsheva and Vertigo. She also had the chance to work with choreographers Noa Zuk, Amir Kolben, Shahar Binyamini and Roy Assaf.
During this time, she realised her desire to join a postgraduate company after finishing her degree and applied for Emergence. This year she has been training with Choreographer Gustavo Oliveira and performed in Italy with his company. She appreciates working with choreographers who cross physical and artistic disciplines and push boundaries of what and where performance/dance can happen.
Photo credit: Josh Hawkins
Subscribe to our mailing list
Keep up to date with Joss Arnott Dance
Sign up now