Robyn Gamston
Company Dancer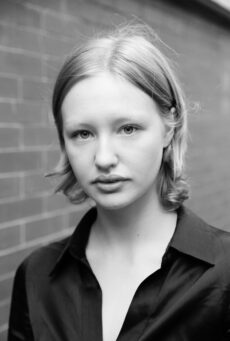 Robyn was born and raised in Chesham, Buckinghamshire and began her training in Ballet, Modern and Tap at a local dance school. At age 15, she started developing her creativity and contemporary technique on the CAT scheme at The Place. A year later, she attended The Brit School where she trained in Ballet, Contemporary, Musical Theatre, Physical Theatre and Jazz among others. Whilst training here, Robyn choreographed 'The Bus Stop' alongside a saxophonist which was performed at the O2 Indigo. 
In her final year at The Brit School, Robyn joined the National Youth Dance Company where she worked with choreographer Sharon Eyal to create 'Used to be Blonde'. The piece toured across England to a range of audiences both in traditional theatres and site specifically.
At 18, Robyn began her Undergraduate Degree at The Place where she collaborated with several choreographers, facilitators and teachers such as Jamaal Burkmar, Seke Chimutengwende, Chisato Ohno and IgorxMoreno. From this, Robyn performed at the Queen's Gallery, The Place Theatre and in secondary schools across London and Cambridge. She also had the opportunity to develop her own artistic practice by researching the extent to which meditation can influence creativity in improvisation for her dissertation.
Outside the studio, Robyn enjoys socialising with friends, watching comedy shows and seeing all forms of live performance art.
Photo credit: Josh Hawkins
Subscribe to our mailing list
Keep up to date with Joss Arnott Dance
Sign up now