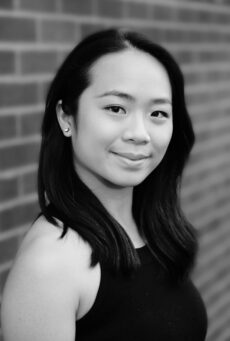 Born and raised in Hong Kong, Rachel began her dance training in ballet at the age of 3. She has trained at the Hong Kong Academy for the Performing Arts under the Gifted Young Dancer Programme and was awarded the Mui Ting Wai Scholarship. Moreover, she has worked with the Hong Kong Youth Arts Foundation, and was also given numerous opportunities to choreograph as a Youth Assistant Choreographer for 2016-2017.
Rachel then moved to London and studied at Rambert School, where she recently graduated with a BA (Hons) in Ballet and Contemporary Dance. During her studies, she had the opportunity to work with different choreographers including Thick and Tight, Darren Ellis and performed repertory by Christopher Bruce CBE. She actively participated in the Student Choreographic Platforms and even worked with local Year 10 GCSE students during the Aspire project in her final year.
Aside from performing, Rachel is passionate about advocating for dance and aims to make a difference in the dance world. She is currently a second-year One Dance UK Dance Ambassador and has assisted for many national youth events, including U.Dance, RISE (careers and networking event) and Yorkshire Schools Dance Festival. As a young leader, she was selected as a delegate for the Young Rural Retreat 2019, led by Scottish Ballet's Christopher Hampson and Catherine Cassidy.
Rachel is grateful to be receiving the Salford International Excellence Award in joining Emergence and completing a Masters Degree in Dance Performance and Professional Practices.
Photo credit: Josh Hawkins
Subscribe to our mailing list
Keep up to date with Joss Arnott Dance
Sign up now