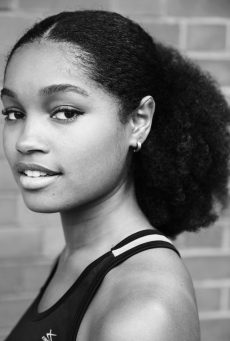 From the twin island republic of Trinidad and Tobago, Mercedes discovered her love for dance during her time at Caribbean School of Dancing (CSD) from the age of 6 where she trained under the RAD and ISTD curriculum, successfully completing each grade and vocational level. She joined Metamorphosis Dance Company in 2011, performing in their annual seasons both as a soloist and corps dancer in various styles such as contemporary, modern, ballet and afro-caribbean folk.
Mercedes left the company in 2017 to further her skills for a professional career in dance at the Institute of the Arts Barcelona where she graduated with a BA in Dance with First Class Honours. Her training consisted of ballet, contemporary, jazz, commercial, tap as well as acting and singing. The year 2019 proved to be one of the highlights of her studies as she had the opportunity to experience dancing in Choreoscope International Dance Film Festival, a Ciclope Festival award-winning music film and Barcelona Fashion Week. She has also had the pleasure of working with well-known EU and UK industry professionals such as Thomas Noone, Patricia Hastewell Puig, Jorge Crecis, Johnny White and Catarina Carvalho/Company Wayne McGregor to name a few.
Giving back has always been a core value to Mercedes. During her time home before joining Emergence, she taught Ballet, creative dance and contemporary at Caribbean School of Dancing where she developed a love for working with children. Moreover, she gained choreographic experiencing creating jazz solos on CSD students for 2 international dance competitions one of which placed 1st within its category and 6th out of 10 within the overall competition.
Outside of the studio Mercedes enjoys modelling, supporting artistic productions of all forms, going on adventures and trying new foods.
Photo credit: Josh Hawkins
Subscribe to our mailing list
Keep up to date with Joss Arnott Dance
Sign up now