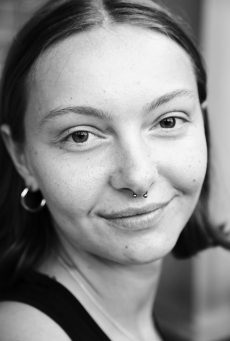 Born and raised in Helston, Cornwall, Maea trained at a local dance school in Redruth called Bev-Lyn School of Dance where she acquired skills in ballet, tap and jazz.
At the age of 15 she was selected for the Swindon Centre for Advanced Training (CAT) contemporary programme, learning from choreographers and performers such as Charlotte Eatock, Richard Alston and Theo Clinkard. This is where she met James Wilton and undertook her work experience with James Wilton Dance Company in 2016 as they were creating 'LEVIATHAN'.
Maea was also selected to perform in Matthew Bourne's 'Romeo and Juliet' in 2019 as part of the young cast in Plymouth.
In 2019 she began her BA in contemporary dance at Trinity Laban Conservatoire of Music and Dance, collaborating with inspiring choreographers such as Matthew Harding, Hedi Rustgard and Alison Curtis-Jones and training in various techniques such as release, Cunningham, ballet and hip hop. Receiving workshops from Matthew Bourne's New Adventures and Motionhouse. It was at Trinity Laban that she found her love for choreography, choosing choreography as her final year module where her piece 'Irrational eating of olives & chocolate mousse at random times of the day' was one of eight selected in the conservatoire showcase.
Having always found a thrill in athleticism and physicality, Maea also trained in Gymnastics to a serious regional level from ages 4 to 17.
Maea also enjoys fashion, reading and eating olives and chocolate mousse at random times of the day (separately of course).
Photo credit: Josh Hawkins
Subscribe to our mailing list
Keep up to date with Joss Arnott Dance
Sign up now