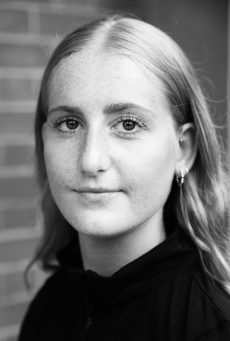 Lucy was born and raised in in a small village in Essex and began dancing at the age of three, taking classes in Ballet, Modern and Tap at her local dance school. Her formal dance training began in 2013 when she was accepted onto the DanceEast CAT scheme, where she trained for five years. During this time, she performed works choreographed by Humanoove, Jasmin Vardimon Company, Joss Arnott, Matthew Bourne's New Adventures, Joseph Toonga and Richard Alston.
In 2019 Lucy was accepted into Trinity Laban Conservatoire of Music and Dance where she trained for three years, experiencing a variety of different contemporary styles such as Cunningham, Flying Low, Graham, Limon, Release and Alexander. Alongside this, Lucy took part in workshops by Motionhouse and Far From The Norm, which stood out as inspiring moments from her training. She recently graduated with a First Class (Hons) degree in Contemporary Dance. Lucy believes that experiencing a vast range of individual artistry and working with a range of choreographers has influenced her creative practice stylistically. Lucy aspires to continue collaborating and experiencing new opportunities to grow into a well-rounded dance artist.
Aside from dancing, Lucy enjoys running, coffee, dog walks and socialising with friends and family. Lucy is intrigued by the relationship between athletic training and dance, exploring how her newly discovered interest in fitness can be utilised to support her training through Emergence and be applied to the choreographic works this year.
Photo credit: Josh Hawkins
Subscribe to our mailing list
Keep up to date with Joss Arnott Dance
Sign up now