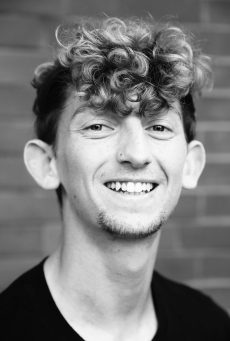 Raised on the Isle of Wight, Louis began his dance training at the age of 6 at a local dance school studying Ballet, Tap and Modern through the ISTD syllabus. At the beginning of his high school journey, Louis joined the award-winning Ryde Academy Elite Team for 4 years, which allowed him to tour all over the South of England with a contemporary and jazz repertoire. Following this, he was lucky enough to travel to New York City to take professional workshops and masterclasses at world-famous studios including Alvin Ailey American Dance Theatre and Broadway Dance Centre.
This led to many personal achievements as his aspirations for a career in dance grew. Louis was selected to be a National Youth Dance Ambassador for Pineapple Dance Studios, London; pitching for funding for dancers from underprivileged backgrounds. Subsequently, he received the Child of Wight award for Best Performer across the Island and also was awarded a scholarship to the Northern School of Contemporary Dance Summer School.
However, as a result of his advanced choreographic and performance abilities, Louis was given the opportunity to complete an AS level in Dance two years early at the age of 14, achieving an A. This enabled him to progress onto the degree programme at Rambert School at age 16, where he received a First-Class BA (Hons) in Ballet and Contemporary Dance.
During his time at Rambert School, he had the opportunity to work with Sir Richard Alston, Christopher Bruce CBE, performing revived work 'Dancing Day', Akram Khan and Richard Chappell for Rambert Schools 'Next Generation' programme, that was performed at Linbury Theatre, Anya Linden Studio Theatre and Sadler's Wells.
Outside of the studio, Louis enjoys socialising, evenings at the beach and being back on the Isle of Wight with family.
Photo credit: Josh Hawkins
Subscribe to our mailing list
Keep up to date with Joss Arnott Dance
Sign up now