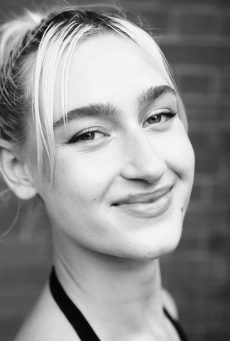 Lisa was born and raised in the North East of England and began dancing when she was 3 years old. Lisa trained in a multitude of dance styles ranging from freestyle, commercial, street dance and musical theatre disciplines. She then joined Dance City CAT scheme, where she studied both contemporary and ballet. In this time, she worked and trained with New Adventures in their production of 'Romeo And Juliet', which she performed as part of the young cast at Newcastle Theatre Royal.
Lisa then went on to continue her professional training at Rambert School in London, where she recently graduated with a First-Class BA (Hons) in Ballet and Contemporary Dance. During her time at Rambert School, Lisa had the opportunity to work with Richard Alston in a new creation, 'Altogether', which she performed at the Linbury Theatre in 2021.
In her third year, Lisa had the pleasure of working with Alleyne Dance and Darren Ellis. Both 'Innocent Children' and 'Being' were performed at the Linbury Theatre, Sadler's Wells Lilian Baylis Studio and the Anya Linden Studio Theatre.
Aside from her professional training, Lisa is also a part of and co-founder of Elbow Dance Collective. The collective collaboratively create and perform accessible, humorous and physical theatre inspired work, that they have had the amazing opportunity of performing in both The Playground Theatre and Sadler's Wells Lilian Baylis Studio.
During her training, she also shared her passion for performance with younger generations as she was a BabyBallet teacher. She has taught children from the ages of 18 months – 6 years old and misses her little ballet stars lots!
Outside of dancing, Lisa loves going to the gym or doing anything fitness related, spending time with her family and furry friend Teddy, plus cooking and baking for her family and friends, especially cake!
Photo credit: Josh Hawkins
Subscribe to our mailing list
Keep up to date with Joss Arnott Dance
Sign up now