KATIE DEMPSEY-JENKINS
DANCER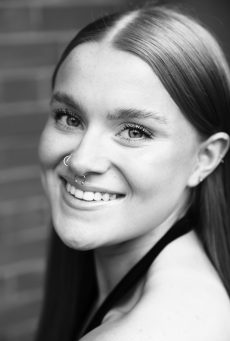 Born and raised in the city of Belfast, Katie's interest of Dance was nurtured throughout her younger years, training with local dance studios in the North.
Katie trained with Rainbow Factory in Dance, Musical Theatre and Acting, preparing for annual pantomimes and shows. She was also involved in competitive cheerleading, gymnastics and sports. Katie's versatility was developed through being a part of the adult Hip Hop champion crew 'Supremacy' with Clarke's Dance Studio, participating in performances and competitions across Ireland.
Katie moved to St Louise's College aged 17 to further her training, where she studied RAD Ballet, Contemporary and Jazz techniques, performing and participating in workshops with guest choreographers including Hofesh Shechter Dance Company. This ignited her passion to experiment, experience and explore possibilities within dance.
Katie attended Dance City completing her Professional Dance BA HONS, where she professionally developed as an artist, performer, teacher and choreographer. Katie had the pleasure of working with Nev Campbell, Julie Campbell, Geoff Hopson, Rebekah Waters, Adam Park, Vanhulle Dance Theatre, Anthony Lo Giudice, Giulia Coti Zolati and Roberta Jean. This is where she improved her physicality by exploring creative, improvisational and choreographic processes. Katie enjoys choreographing work that is heavily influenced by her cultural heritage, her interests lie within high energy, politically driven and physical work.
Throughout the summer of 2021, Katie was employed for the '21 Artist's Programme' working with Michael McEvoy and Eileen McClory (Maiden Voyage), to create and perform a work collaborating with artists for a Centenary event.
Katie is interested in the freelance lifestyle and completed her placement with Southpaw Dance Company, gaining insight and experience on the 'Speakeasy' tour, which has encouraged her to pursue a freelance dance career. Katie also enjoys teaching, gaining experience through Centre for Advanced Training courses and community classes. Another achievement of Katie's was being selected as the One Dance UK Ambassador to represent Northern Ireland. 
Outside of dance Katie enjoys spending time with family, socialising with her friends and training in the gym.
 Photo credit: Josh Hawkins
Subscribe to our mailing list
Keep up to date with Joss Arnott Dance
Sign up now