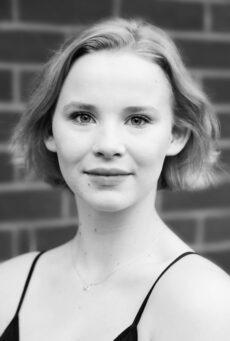 Jade was born and raised in Epsom, Surrey where she began dancing at 3 attending Laine Theatre Arts. She studied ballet, modern, tap, jazz, street, contemporary and musical theatre. At 14 she also joined The BRIT School to further her understanding of dance while applying an academic understanding to her practical training. Here she found her love for the different forms of contemporary dance and gained an understanding of the industry. Additionally, a love for teaching dance to younger students.
Jade then began her time at Rambert School of Ballet and Contemporary Dance at 16. This was a diverse and new environment for her and it helped to establish her own unique and quirky style of performance. She also was involved in Rambert's "Aspire" project working with students from Year 10 GCSE Dance.  In her time at Rambert, she got to work with and showcase pieces by choreographers such as Arielle Smith, Thick and Tight and Sir Christopher Bruce.
With her wide range of dance styles, Jade has been able to perform on lots of differing stages including charity events, chorographic platforms showing others and her own work and virtual or recorded dance. During quarantine, Jade and her peer choreographed and produced a short dance film "BISOUS XXX". In 2019 she got to work with dance artist Jamie Neale on a music video for Ashnikko's song "Hi, it's me".
Jade is excited to start Emergence for her MA in Dance Performance and Professional Practices. She is looking forward to getting back into the studio working with new artists, to perform around the country and strengthen her knowledge of her artform.
Photo credit: Josh Hawkins
Subscribe to our mailing list
Keep up to date with Joss Arnott Dance
Sign up now