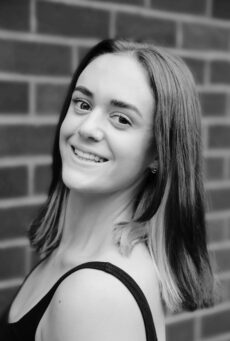 Hannah is 19 years old and from Hull. She began dancing aged 2, where she attended her local dance school learning a variety of styles.
Hannah attended Louise Browne Scholars in York from the age of 10, focusing on ballet. At age 12 she joined Northern Ballet's Associate scheme, this was the first time she had experienced contemporary dance, and fell in love with it. She received classes from Tony Louis and Douglas Thorpe.
She began her training at Rambert School of Ballet and Contemporary Dance at the age of 16 and during her time at the school, Hannah had the opportunity to work with multiple choreographers such as; Arielle Smith, Thick and Tight and Anthony Taylor. She also took part in performing work by Christopher Bruce CBE that was restaged by Paul Liburd.
During her time at Rambert, Hannah also had the opportunity to perform in the student choreographic shows, working alongside her peers to create and perform new works.
Hannah has also had experience of teaching through Rambert's 'Aspire' Project where she worked with GCSE dance students across 8 weeks, helping them to develop their confidence as well as their dance ability. She also choreographed a piece for the students which was performed at the Anya Linden Theatre.
Outside of the studio, Hannah enjoys travelling, fashion and fitness, especially bike rides.
Photo credit: Josh Hawkins
Subscribe to our mailing list
Keep up to date with Joss Arnott Dance
Sign up now