Faith Hiles
Company Dancer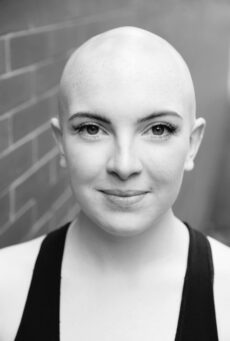 Faith grew up in Hoghton, Preston and started dancing at Highfield School of Dancing, training in Ballet, Tap, Modern and Theatre within the IDTA syllabus. At the age of 12, she began voluntary teaching at her local church discovering her love for dance and creation. One of her highlights is performing alongside Anne-Marie in 2017 at a private concert where her love of performing on stage began.
She continued her training at the University of Salford achieving a First-Class (Hons) degree in Dance. Within her training she had the opportunity to work with Joe Lau, Josh Hawkins, Keira Martin, Company Chameleon and Bodiography (an American ballet/contemporary company).
From the age of 10, Faith was diagnosed with Alopecia, an autoimmune condition causing her hair to fall out resulting in her shaving all her hair in 2019 to embrace and raise awareness of Alopecia.
In her spare time, she has taken up fire fan lessons and is an advocate for Hair Heals Organisation to raise awareness of Alopecia.
Photo credit: Josh Hawkins
Subscribe to our mailing list
Keep up to date with Joss Arnott Dance
Sign up now