Courtney Cruse
Company Dancer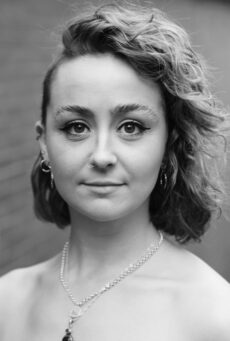 Born in Cheltenham, Courtney started dancing at the age of 4 taking classes in Ballet, Modern and Tap at Corraine Collins Dance Studios. Courtney has trained at Elmhurst Ballet School Summer Intensives and has been a finalist in the ISTD Ballet Awards, Janet Cram and used as a demonstrating body for ISTD syllabus shown worldwide.
At 17, Courtney moved to London to complete a degree in BSc Geography at Kings College London. Here, she was able develop her critical thinking, academic understanding and expand her knowledge of global societal, political and cultural issues, which she now embeds into her movement. This propelled Courtney to reconnect to her love for dance and returned to dance training. She successfully gained a fully funded place at Italia Conti Academy, where she completed a Level 6 Diploma in Professional Dance. She was able to diversify her dance training and soon fell in love with the freedom, fluidity and spirituality in contemporary dance. During her final year showcase, she worked closely with Lisa Rowley, Patrice Moniz and was selected as the Assistant Choreographer for Renako McDonald.
Courtney has a strong passion for celebrating diversity and building connections between people, movement and narrative. She uses movement as a personal escapism, but also as a way to feel and project emotion. Alongside her dance studies, she enjoys acting and has appeared in multiple commercials, ITV and BBC dramas. Courtney is also the Product Manager for the World's First Transwoman Lingerie Company, GI Collection where she explores methods of injecting equality and inclusion into everything she does.
Courtney is excited to continue developing her artistic voice and embodying narratives created by other professional artists.
Photo credit: Josh Hawkins
Subscribe to our mailing list
Keep up to date with Joss Arnott Dance
Sign up now