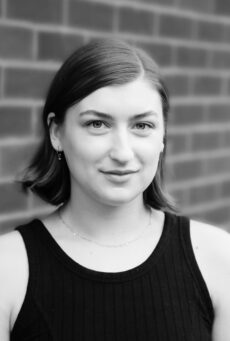 From Beverley, East Yorkshire, Bethany trained at LWHS School of Dance and attended the Northern Ballet Associates in Leeds. She went on to gain a place at Northern School of Contemporary Dance on the Cert HE course at the age of 17. Bethany continued her vocational training at NSCD graduating with a First-Class Hons degree in Contemporary Dance. During this time, Bethany had the opportunity to work with choreographers The Hiccup Project, Amaury Lebrun, Douglas Thorpe and Lea Anderson.
During her second year, Bethany was selected to be a part of the young cast in Matthew Bourne's New Adventures production of Romeo and Juliet, where she performed alongside the professional company on their tour in Bradford. Since then, she has continued to work with the company on their project Civil Blood.
Bethany has a strong passion for teaching after completing placements with Dance United Yorkshire and being a teaching assistant for NSCD Saturday School. She is looking forward to exploring teaching as a dance artist as well as in an academic primary school setting after Emergence.
Photo credit: Josh Hawkins
Subscribe to our mailing list
Keep up to date with Joss Arnott Dance
Sign up now