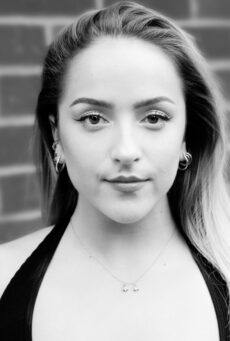 Born and raised in Newcastle, Annie began her dance training aged 3 at her local school Dorothy Buggy/Katherine Brett School of Dance where she trained in RAD Ballet to Intermediate standard.
At the age of 13 she joined Vizaviz, a youth dance company at her secondary school, where her contemporary dance training begun. Whilst in the company she performed works by; Anthony Lo-Guidice, Rebekkah Waters, Ellis Saul, BalletBoyz, Geoff Hopson and Jenni Wren.
When she was 14 she joined the Contemporary CAT programme at Dance City Newcastle for 4 years where she performed works by Joss Arnott, Neville Campbell and Anna Watkins.
In 2015 she was selected to be a part of Youth Dance England's Young Creatives Cohort where she performed in the Clore Studio at the Royal Opera House.
At 18 she joined London Contemporary Dance School where she graduated with a First-Class BA (Hons) Degree. Whilst there she had the pleasure of performing works choreographed by Sasha Roubicek, Company Chameleon, Richard Alston/Kate Price, Ohad Naharin/Chisato Ohno, Leila McMillan and a virtual graduation performance by Thick and Tight. A highlight for her while studying here was performing in the LCDS Design Collaborations with UAL.
Outside of dance performance Annabelle enjoys exploring various creative mediums; videography, photography, design, textiles, painting, styling, as well as choreography and fitness.
Photo credit: Josh Hawkins
Subscribe to our mailing list
Keep up to date with Joss Arnott Dance
Sign up now