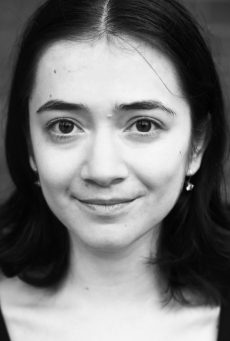 Andrea Levick is a dance artist originally from Pittsburgh, Pennsylvania in the United States. She has experience dancing across the US and Canada with a wide range of choreographers. In 2021, she had the pleasure of working with NW Dance Project's Sarah Slipper and performing the lead role in an excerpt from Slipper's 'Airys'.  She has also danced original roles in works created by Angela Blumberg, Elijah Labay, Kody Jauron, Rena Butler, Cameron McKinney and Robyn Mineko Williams.
Previously, Andrea spent some time as a student guest artist with Maria Caruso's Bodiography, where she performed alongside company members in several choreographies. While participating in intensives with Hubbard Street, NW Dance Project, Kenny Pearl and San Francisco Conservatory of Dance, Andrea has had the opportunity to dance repertoire by Peter Chu, Crystal Pite, Wen Wei Wang, David Earle and Ohad Naharin, among others.
Starting in 2020, she became involved in multiple film works, including creations by Bobbi Jene Smith and Or Schraiber, Alyssa Martin, Andrea Nann and Hanna Kiel.
Along with interpreting the movement of other choreographers, Andrea also has a passion for creating her own works. In 2018, her duet 'Retorque' was performed by the company dancers of Bodiography. Since then, she has experimented with other creations, including a durational solo, 'Iterations', that was shared at Buddies in Bad Times Theatre, and the film 'KRIZMADIK', presented in Toronto Metropolitan University*'s Choreographic Film Festival.
Most recently, Andrea debuted her mathematically formulated choreography, 'A René Descartes Nightmare', alongside her peers' works as a part of 'Collections'. Andrea enjoys exploring the ways in which various styles of moving can serve to tell different stories.
When she is not dancing, Andrea can be found reading fictional novels, knitting, cooking, or attempting to accomplish all three activities at once.
Andrea obtained her BFA in Performance Dance (with distinction) from Toronto Metropolitan University* in 2022. She was a recipient of the Presidential Scholarship and consistently earned a position on the Dean's List.
*Formerly known as Ryerson University, the institution changed its name in response to the experience of Indigenous peoples in the Canadian residential school system.
Photo credit: Josh Hawkins
Subscribe to our mailing list
Keep up to date with Joss Arnott Dance
Sign up now