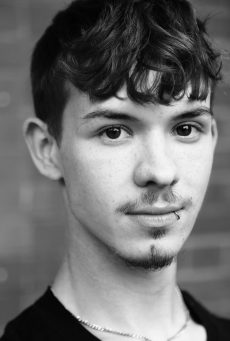 Aiden grew up in Cheshire, North West of England. He started his dance training in 2016 at South Cheshire College, where he studied a range of styles such as Urban, Jazz, Tap and Ballet and is where he discovered his passion for contemporary.
Aiden began his contemporary dance training in 2018 when he joined the HE course at the Northern School of Contemporary Dance (NSCD). He then went on to the BA course and graduated in 2022 with a First-Class Honours degree. During his time at NSCD, Aiden had the pleasure to work with choreographers such as Mathieu Geffre, Akeim Toussaint Buck, Douglas Thorpe, Fubunation, Keira Martin, Joseph Mercier and Imogen Reeve along with various others. From this, Aiden got to perform in a range of spaces from traditional theatres to site-specific works.
One of Aiden's highlights was working with Joseph Mercier as part of the Glitterbomb dancers, creating and touring performances in LGBTQ+ spaces in the UK and working alongside his friends whilst doing so.
Non-dance-related, Aiden enjoys socialising, visiting his friends and family and taking deserved time to himself.
Photo credit: Josh Hawkins
Subscribe to our mailing list
Keep up to date with Joss Arnott Dance
Sign up now