We are delighted to announce that Sean Moss and Emma King will be performing our new, dance and live music outdoor work PULSE! from May 2019.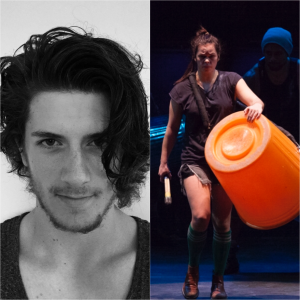 SEAN MOSS
Sean completed his formal training at Northern School of Contemporary Dance, graduating in 2018. During his time at the school he performed works by Catarina Carvalho, Gavin Coward and Fernanda Prata and was an apprentice for the Hull 2017 edition of Luca Silvestrini's (In)Visible Dancing.
Prior to this, Sean studied at Swindon Dance's Youth Dance Academy (a Centre for Advanced Training) before becoming a member of the 2014-2015 National Youth Dance Company, creating and performing Frame[d] by guest artistic director Sidi Larbi Cherkaoui, premiering the show on Sadler's Wells mainstage before embarking on a national tour. Sean has since returned to Sadler's Wells to perform works by Pascal Merighi and Michael Keegan-Dolan.
In 2018, whilst still formally in training, he joined 2Faced Dance Company as a full-time dance artist, touring extensively throughout the UK and abroad to Portugal, Italy and Hong Kong, performing works by Tamsin Fitzgerald and Lenka Vagnerova.
Sean Continues to push himself in all areas of his artistic practice, seeking out new challenges to further his skills and diversify his experience within the industry.
EMMA KING
Emma trained at the Guildhall School of Music and Drama and is a Freelance Percussionist originally from Northern Ireland but now based in London with experience in Folk, Pop, Rock, Musical Theatre and Classical genres.
Emma joined the West End/Broadway smash hit show STOMP in 2014 and toured extensively throughout Europe, Asia, Australia and South America with the company. Theatre credits also include depping on The National Theatre of Scotland's production of Our Ladies of Perpetual Succour 2016, the Steven Sater London Showcase 2017 and opening the 2018 Adelaide Festival with The Lost & Found Orchestra.
Throughout her career Emma has performed in masterclasses with Tom Greenleaves (Gewandhaus Orchestra Leipzig) Chris Lamb (New York Philharmonic) and soloist Colin Currie. Within the pop industry Emma has worked with X Factor star Gamu Nhengu, Ralph Salmins (Dionne Warwick, Diana Ross, Paloma Faith, Robbie Williams), Andy Gangadeen (The Spice Girls, Chase & Status) and gospel producer Nicky Brown.
Television appearances include Live at the London Palladium on ITV and The Late Late Show on RTÉ. Corporate events include the Goldwell Colourzoom Gala Showcase 2017 in Barcelona, Directed and Choreographed by Kevan Allen. Within the studio Emma's work as a Body Percussion artist can be found on the Secret Life of Human's soundtrack. The play inspired by Yuval Harari's international bestseller, Sapiens: A Brief History of Humankind which had a sold out run at The New Diorama, London and 59e59, New York in 2018.
In October 2018 Emma performed in the World Premiere and Irish National Tour of a new Opera production by John O'Brien, inspired by Oscar Wilde's timeless story, The Nightingale & The Rose.
Emma is proudly endorsed by Schlagwerk Percussion and would like to thank her friends and family for their continued support.
© Guido Mandozzi
PULSE! is supported by Without Walls and Arts Council England through Project Grants, and commissioned by SIRF, Stockton International Riverside Festival, Greenwich+Docklands International Festival, Salisbury International Arts Festival, Pavilion Dance South West, DanceEast & Déda
Summer 2019 National Tour Dates to be announced shortly…